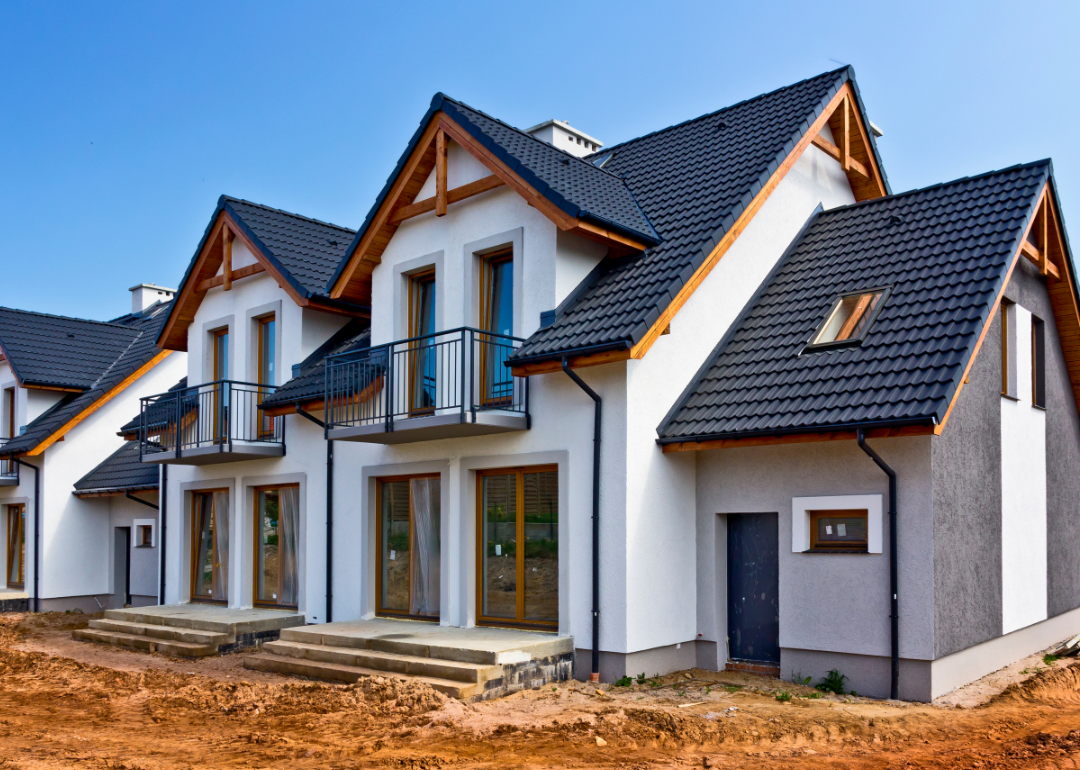 Canva
The once white-hot housing market may finally be starting to cool, but it's not a buyers' market just yet.
As mortgage rates and home prices remain high, potential homebuyers are deciding not to take the plunge, mostly due to a lack of affordability. But with the U.S. short about 6.5 million homes, according to one analysis, economists project that lack of supply will keep things mostly in sellers' favor until next year at least.
"Homebuyers should prepare for a buying environment that is more relaxed than years past but with different complications," said Nikolas Scoolis, manager of housing economics at Zonda, a real estate data firm. "Highly desirable properties, like those in good school districts or offering good value propositions, will still face stiff competition."
Stacker cited data from Redfin and the U.S. Census Bureau to visualize and explain the shortage of U.S. homes for sale and what that means ahead of peak homebuying season.
See how your region compares: 2023 Housing market data by metro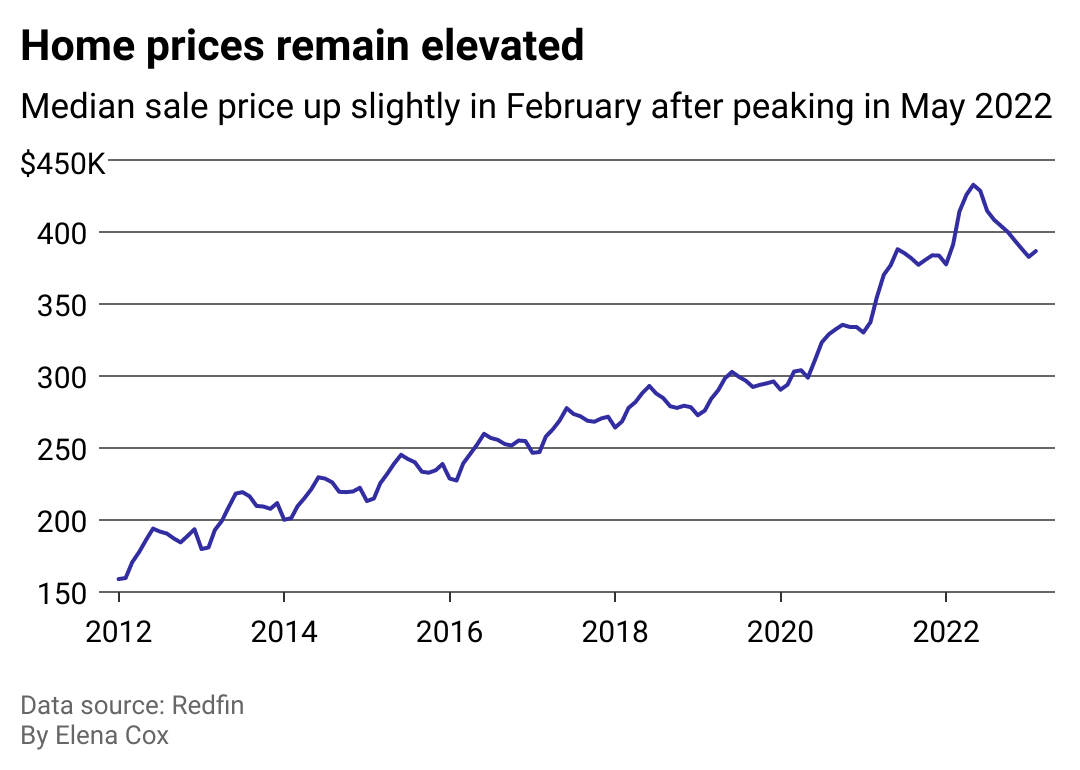 Stacker
Home prices remain high
Historically, home prices tend to rise in the spring and summer and drop during the colder months. After peaking in spring 2022, prices have started to cool off, but remain elevated.
While home prices have dropped slightly in recent months, the median sale price is more than double what it was a decade ago—reaching $386,527 in February. And with mortgage rates higher, that's also eating into buying power. Sellers are still trying to get top dollar for their homes, though, and those high listing prices will result in fewer bidding wars and even some price reductions.
"Affordability is the number one issue limiting the market at the moment," said Scoolis. "On the other hand, due to the low supply, prices may not drop as much as buyers are hoping or expecting."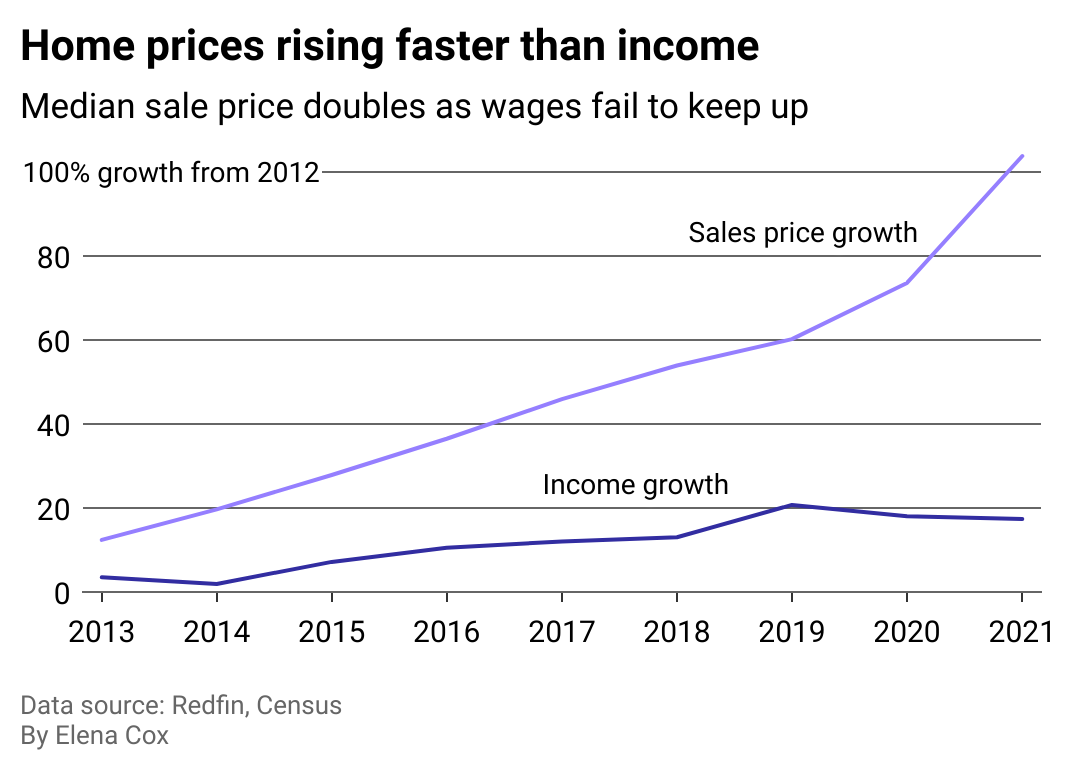 Stacker
Homes are more unaffordable
As home prices have spiked, incomes haven't grown at the same rate. That means homes are not only getting more expensive, but they're also getting less affordable.
Even as prices remain elevated, demand will still be there for those who can afford it. Geography plays a role here, with pandemic-fueled boomtowns like Austin, Texas, and Boise, Idaho, already experiencing significant price cuts. But less-expensive places like the Midwest and South will continue to grow as buyers expand their searches and focus on where their dollars go further.
Expansive searches are widespread in the rising demand for single-family homes, which are often outside major cities. And with hybrid work models becoming more of the norm, buyers can live farther away from urban centers, said Robert Dietz, chief economist at the National Association of Homebuilders.
"Households in general, whether homebuyers or renters, are looking for space. They're looking for that yard," Dietz said.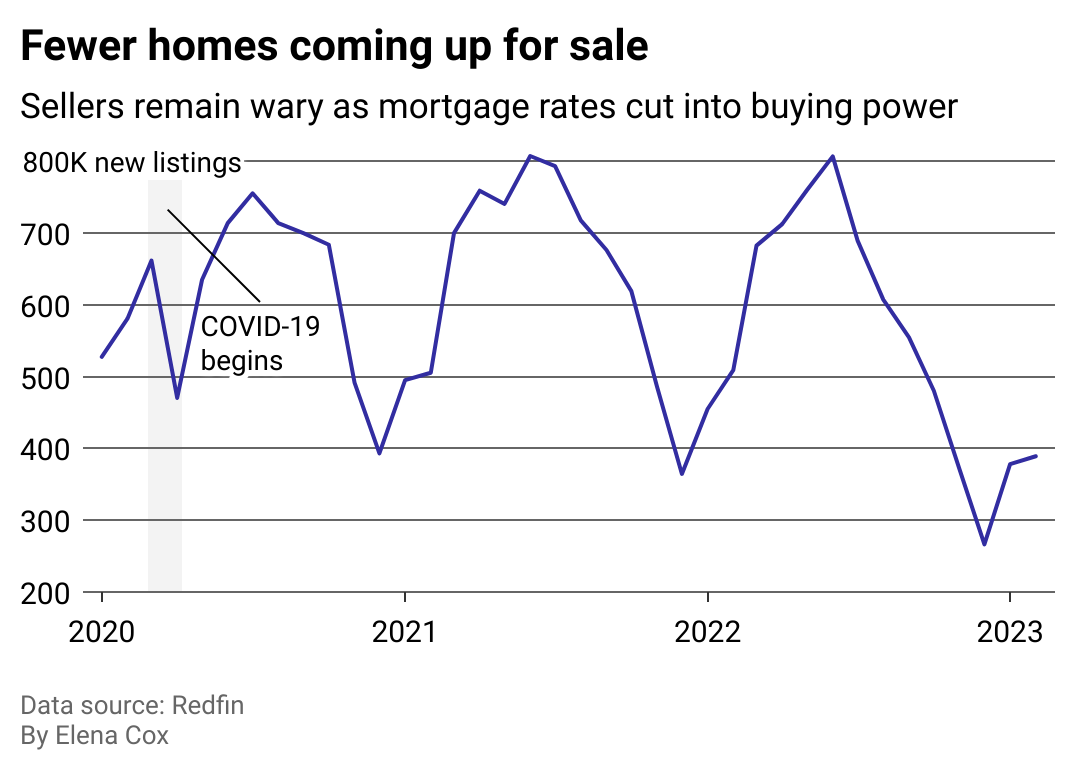 Stacker
Low inventory keeps prices elevated
Since the real estate market is seasonal, sellers typically begin putting their homes on the market in March in anticipation of peak spring and summer homebuying. This year, however, fewer homeowners are listing, putting a strain on that already-tight inventory.
The reasons for this are complicated but remember—most people who sell a home are also looking to buy a new one for themselves. Sellers want to get as much as possible for their homes since they have to deal with the same high mortgage rates as their buyers.
"Sellers aren't super incentivized to give up their low payments," Scoolis said. "This will continue to limit the supply of homes available on the market but does provide an opportunity for builders."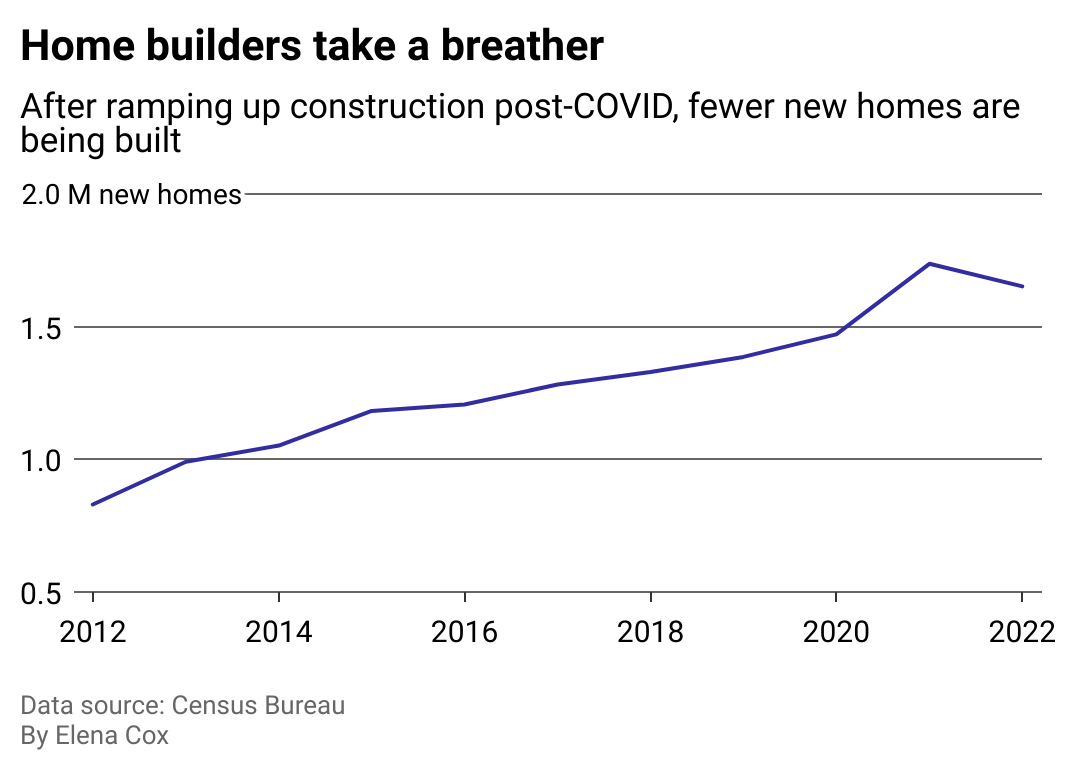 Stacker
Builders unable to keep up
New construction is critical to reducing the housing shortage and lowering home prices. But homebuilders are breaking ground on fewer projects, and the number of single-family homes going up is likely to drop until at least the middle of this year, Dietz said.
Homebuilder sentiment, tracked by the National Association of Homebuilders and Freddie Mac, declined every month in 2022, so builders planned to put up fewer homes. And since single-family homes take about four to nine months from start to finish, there's a lag in the production process.
The good news is that sentiment has increased this year as builders see the light at the end of the high-mortgage-rate tunnel. The bad news is the homes they are putting up are expensive, with few new homes going for under $300,000.
While some of the pandemic-induced constraints have eased a bit, the cost to build remains high. Supply chain issues still abound, and construction worker shortages have worsened. More homeowners are deciding to remodel, hiring the same laborers required for new builds. Meanwhile, a spike in multi-family rentals, which require more workers and take longer to build, is reducing the churn of people able to start new projects.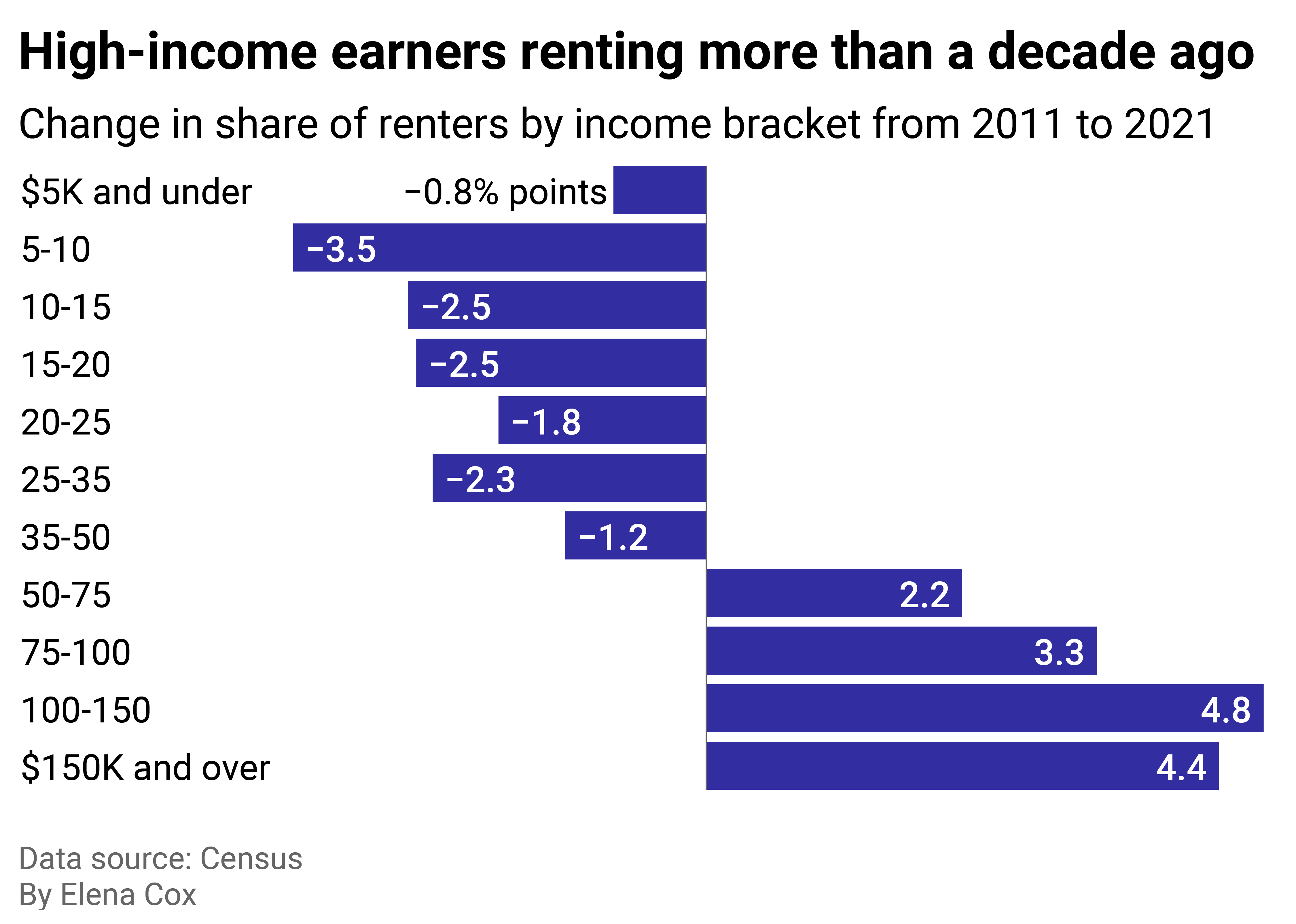 Stacker
Rents rise as fewer people can buy
The lack of housing for sale and rising sale prices have forced more people to rent overall, but the most significant increases have been seen among Americans earning $50,000 or more a year, according to U.S. Census Bureau data.
This includes people who have never owned a home and also those who would hold onto their homes and rent them out rather than commit to a monthly payment with higher interest rates. At the same time, baby boomers prefer to age in place instead of going to an assisted living facility, with some holding onto their homes for longer and others choosing to rent a more manageable home or apartment.
Builders have taken notice and responded by putting up more luxury buildings these new renters can afford in lieu of affordable options. After dropping during the COVID-19 pandemic, rents are now growing faster than single-family home prices.
Americans are moving back to the cities, and landlords are raising rents to make up for lost money. But with hybrid schedules becoming more common for white-collar workers, there has also been increased competition for rentals in the suburbs. So far this year, the most competitive rental markets are in northern New Jersey suburbs, which include Hoboken and Newark, according to a RentCafe report released in March.
"We have largely gotten to a point where the renters are also facing affordability problems," Scoolis said. "The rental market certainly benefits from an expensive housing market but won't thrive on that alone."
Still, there is a limit to how far rents can go. The lack of affordable housing will eventually cause more people to live with roommates or move back in with family to reduce costs. However, economists don't project a housing crisis like during the Great Recession.
"This is very different from 2008 and 2009," Dietz said. "This time you don't have that level of distressed sales. What we've got is a reset, even if it's relatively small."
In this year's fight for majority control of the General Assembly, abortion emerged as a key issue and a bright-line distinction between Republican...
The 2023 General Assembly elections are behind us, and Virginia Democrats successfully faced down immense amounts of Republican spending to secure...
BY DAWN RYKHEART, We Vote In Virginia we hold elections every year, and the years where there is no presidential election usually see less than 50%...
While store-bought produce is all well and good, there's nothing like going to a farm and picking your own fresh fruit, vegetables, flowers, and...