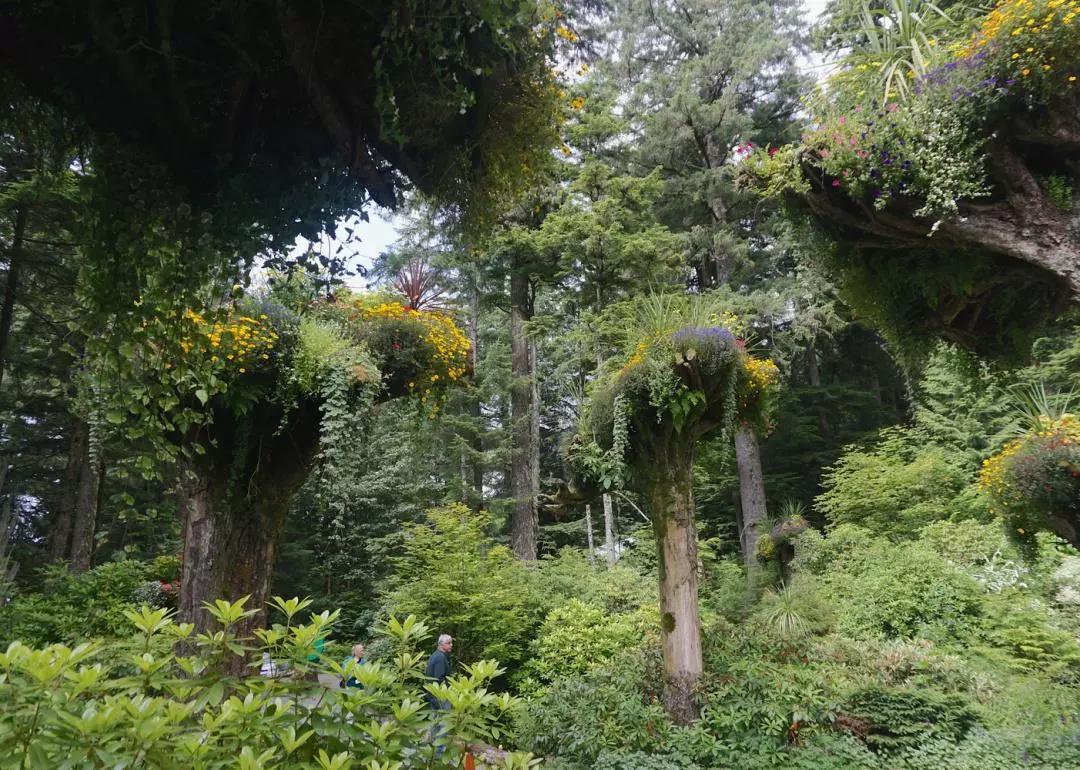 Linda Harms // Shutterstock
Americans spent $93 billion on travel in February 2023—5% above 2019 (before COVID-19) and 9% above 2022, according to the U.S. Travel Association. As more and more people venture out to make up for the last few pandemic-ridden years, you might be looking to go a little farther off the beaten path to avoid the crowds.
But it's not always easy to learn about lesser-known travel gems or figure out how to find them. Fortunately, Stacker did some digging and found a hidden travel gem for every state, using data from Atlas Obscura.
Each state's top hidden wonders were based on their travel rarity ratio, which Stacker calculated by taking the number of "want to visit" votes for places on Atlas Obscura and dividing those by the number of "been here" votes as of April 11, 2023. This list includes each state's places with the highest-ranking ratio—that is, lots of people want to visit, but not many actually have—as long as they had at least 100 "been here" votes at the time of tabulation.
Here you'll find opportunities to explore offbeat history, admire ancient geological formations, witness unexplained phenomena, and reveal long-kept secrets—no matter what state your travels take you to.
Because these locations aren't the most obvious and out-in-the-open tourist attractions that you'd find in your garden variety travel guide, some of these locations require making special arrangements to access them. In other cases, the hidden gem might be on private property and only visible from afar. In those cases, it is vital to respect property owners and avoid trespassing.
Read on to find each state's coolest hidden wonder.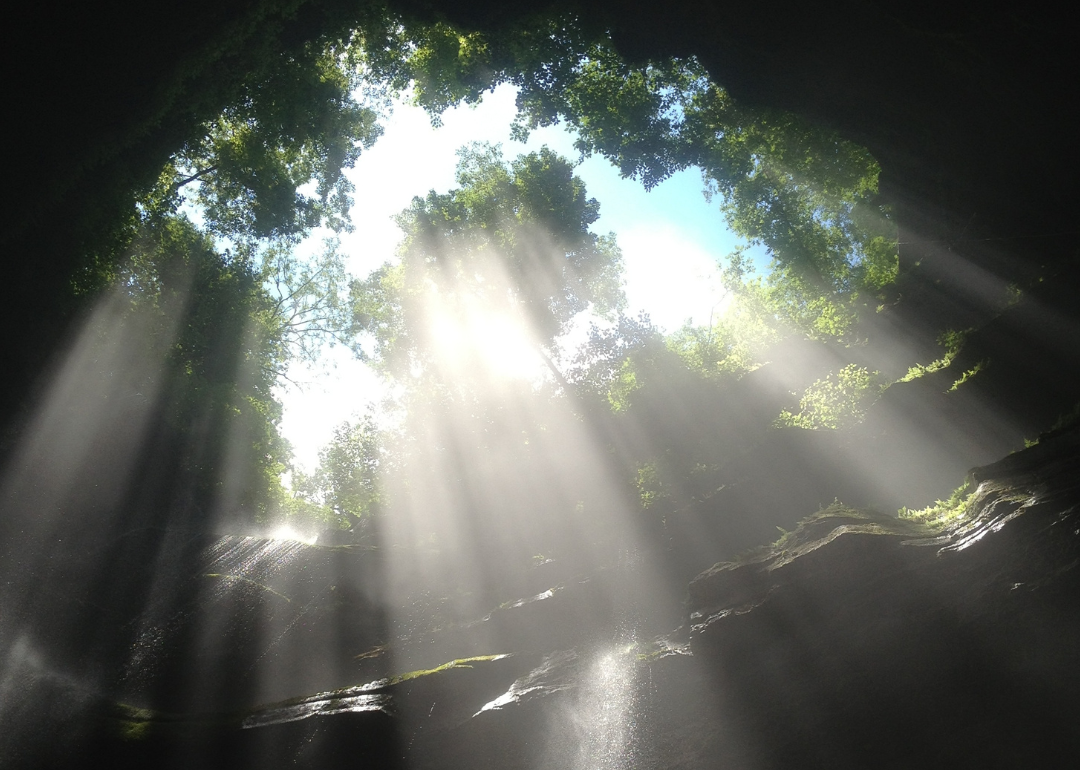 Kendra Isbell // Shutterstock
Alabama: Neversink Pit
– Address: Fackler, Alabama, 35746
– Want to visit votes on Atlas Obscura: 2,454
– Been here votes on Atlas Obscura: 172
– Rarity ratio: 14.3
Reaching the bottom of Neversink's 162-foot pit—and getting back up—requires specialized rock-climbing and rope-rigging skills and equipment, but hikers are welcome to visit without actually entering the sinkhole. It's located in Jackson County, about 34 air miles northeast of Huntsville—at the end of a short but strenuous hike up a steep mountain. Free permits are available from the Southeastern Cave Conservancy.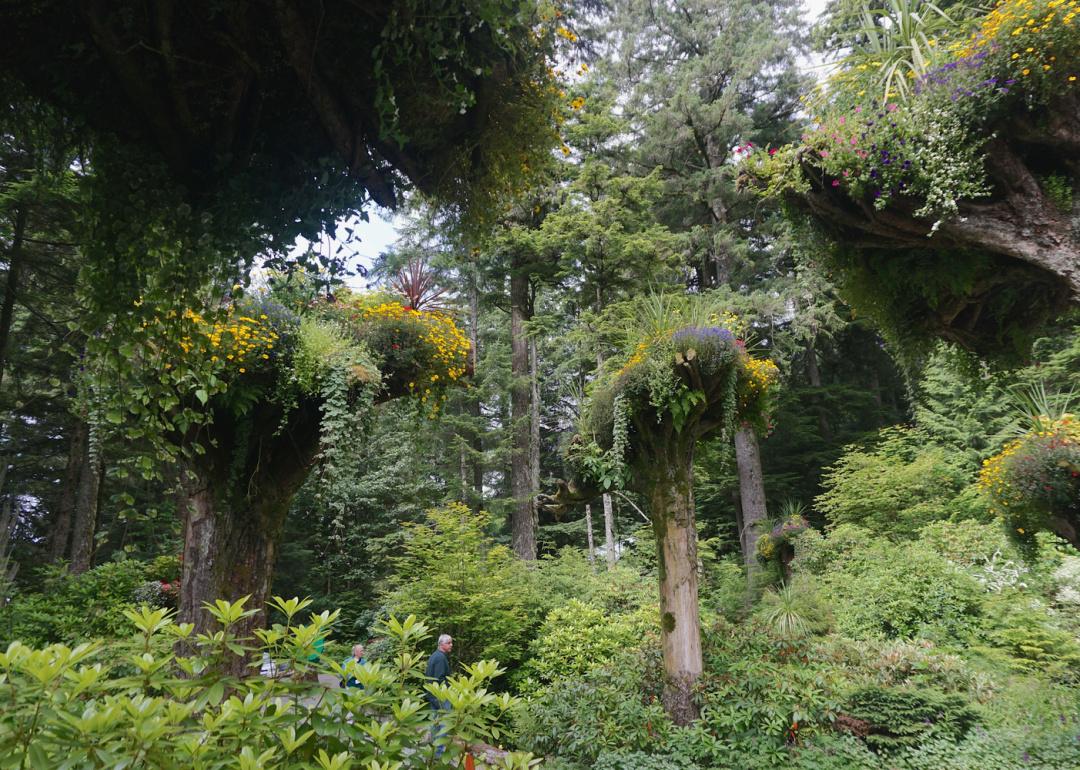 Linda Harms // Shutterstock
Alaska: The Upside-Down Forest of Glacier Gardens
– Address: 7600 Glacier Highway Juneau, Alaska, 99801
– Want to visit votes on Atlas Obscura: 859
– Been here votes on Atlas Obscura: 129
– Rarity ratio: 6.7
You might not think of Alaska as a destination for a temperate rainforest habitat—but that's exactly what the botanical attraction Glacier Gardens offers, tucked away in the Tongass National Forest near the Mendenhall Glacier just north of Juneau. From May to October, Glacier Gardens turns any preconception of what Alaska has to offer on its head with its "upside-down" grove of trees—whose branches are firmly planted into the ground and whose roots create an unusual flower bed canopy high above. You can only explore the gardens and their "flower towers" on a guided, hourlong tour, which is offered to cruise passengers and land tourists alike.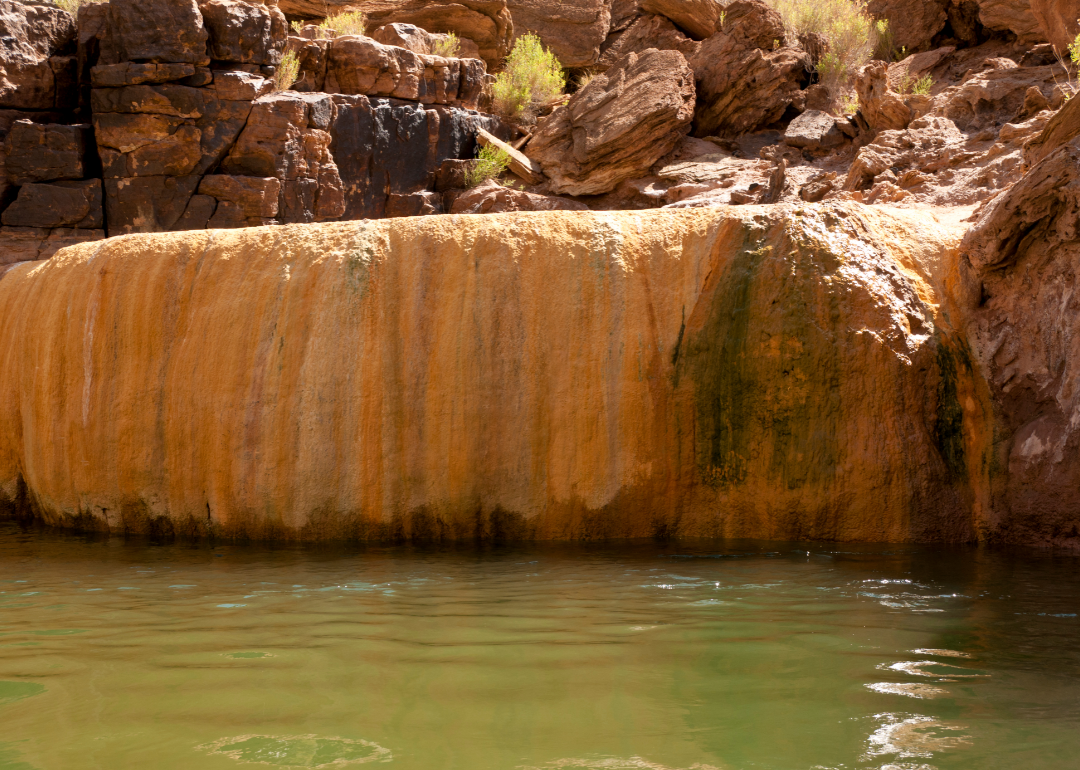 Canva
Arizona: Pumpkin Spring Pool
– Address: Mile 212.9, Grand Canyon, Littlefield, Arizona, 86432
– Want to visit votes on Atlas Obscura: 1,749
– Been here votes on Atlas Obscura: 119
– Rarity ratio: 14.7
It may look like autumn all year at Pumpkin Spring Pool in Littlefield, Arizona—but you definitely don't want to take a sip out of this orange-colored gourd. In fact, you won't even want to touch the hot springs-fed mineral water that's overflowing out of this natural limestone formation because it's a rogues' gallery of toxins (like arsenic and lead).
Geologically known as a "mound form," it's a worthy destination to gaze upon and marvel at—if you can get there, as it's only reachable by traveling via boat down the Colorado River on the rim of the Grand Canyon. A local river outfitter can hook you up with a rafting trip—and then all you have to do is look for Pumpkin Spring and its curious cauldron at Mile 212.9.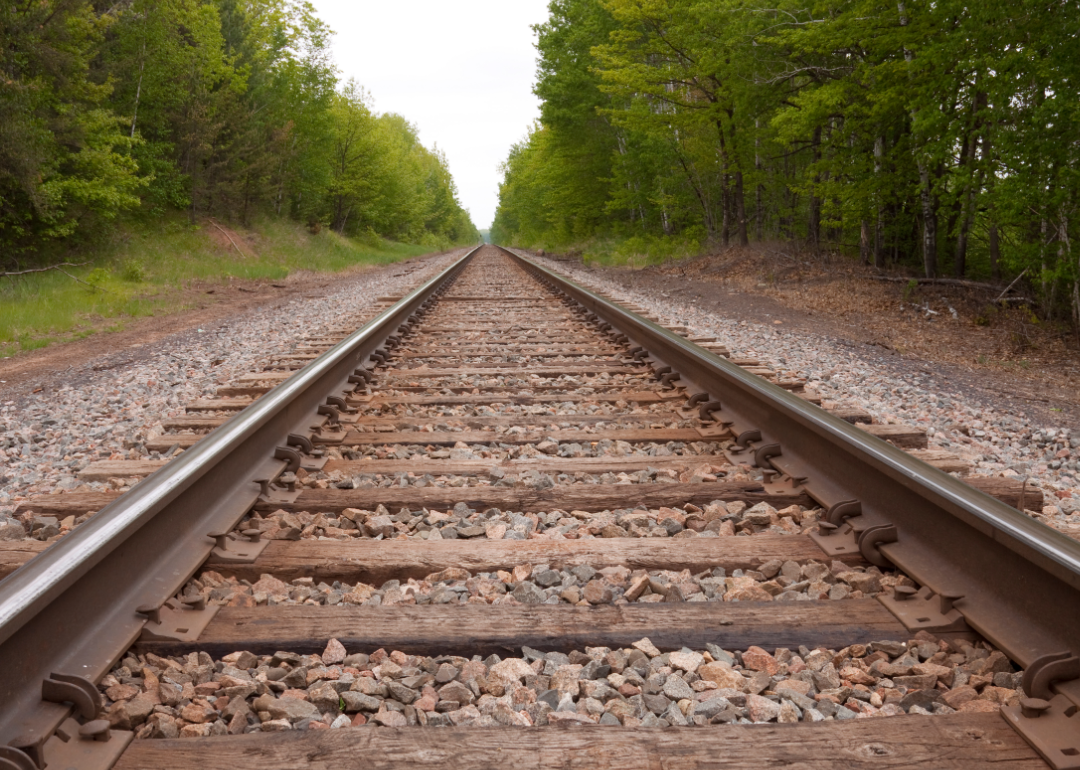 Canva
Arkansas: The Gurdon Light
– Address: 64 Collins Road, Gurdon, Arkansas, 71743
– Want to visit votes on Atlas Obscura: 1,223
– Been here votes on Atlas Obscura: 124
– Rarity ratio: 9.9
Questions surrounding the Gurdon Light in Gurdon, Arkansas, abound—as do theories surrounding it. The glowing orb appears to have no man-made source, and it's not always found in the same spot. People who've spotted it don't even agree on what color it is.
The television station KTHV, a CBS affiliate in nearby Little Rock, reported that the actual existence of the light can't be denied because of how many people have witnessed it—but after interviewing a historian and other locals, no one can say for sure what this "ghost light" is, or why it's there, located somewhere along an abandoned right-of-way along old railroad tracks, a short walk west from Highway 53. One thing's for sure, though: Sightings only happen at night.