Virginia teachers made more than $6,000 less than the national average in the 2019-20 school year.
It's May 17 and there's still no state budget in place. The inaction by the General Assembly to pass a budget that both the House of Delegates and Senate agree on has already caused issues for some groups, namely school divisions trying to finalize their expenditures before the end of the fiscal year (FY).
According to the Urban Institute, Virginia's largest spending area per capita in the FY 2019 budget was in elementary and secondary education. However, teacher pay remained below the national average — and hasn't yet eclipsed the benchmark.
The Virginia Education Association (VEA) noted that the average pay of Virginia public school teachers in 2019-20 was $57,665 — a total of $6,468 below the national average of $64,133.
In December, former Gov. Ralph Northam, a Democrat, proposed a budget featuring a 10% raise for teachers. With the help of local fund matches, the proposed raise stood a chance at putting Virginia's pay for teachers above the national average. However, recently released data from the VEA revealed that the proposed raise still wouldn't meet or exceed the national average. 
This conversation of raising teacher pay has been on the table for a long time in the commonwealth. According to a chart published by the VEA, Virginia hasn't topped the national average for teacher pay one time since before the 1969-70 school year. That's as far back as the information given dates.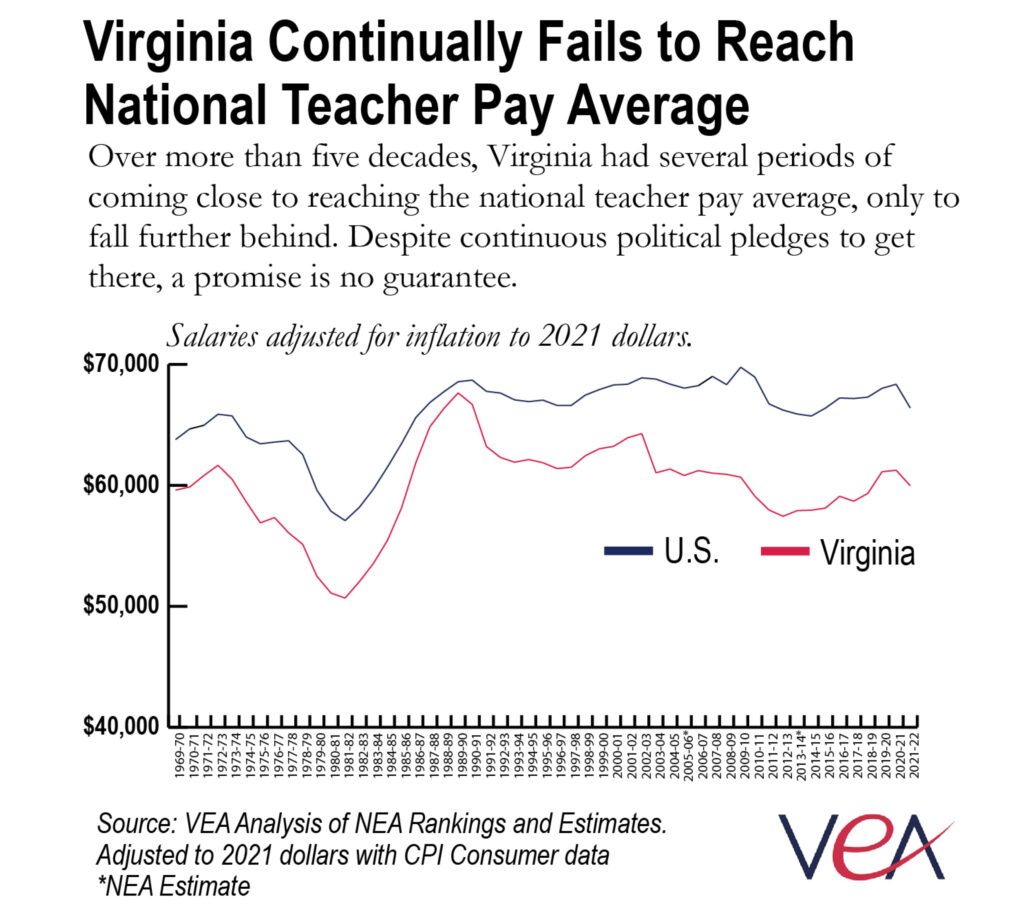 That doesn't mean the commonwealth hasn't been close to closing the gap — it has. In the 1989-90 school year, Virginia came within 1% of the national average under the leadership of former Gov. Gerald Baliles, a Democrat. Since then, the divide grew.
Another divide is also growing — and that's the number of teachers in the classroom. In March 2021, the EdWeek Research Center surveyed approximately 700 teachers and 300 school leaders to determine why the professionals were leaving the career. Out of the roughly 1,000 individuals interviewed, close to 70% reported that pay raises would make a major impact on teacher retention. Additionally, nearly one-in-three teachers noted that retirement benefits were major retention factors.